NWU MEN'S BASKETBALL: Bardsley Ties Career Record In Win Over Hastings
Senior guard Trey Bardsley stole the show on Wednesday as he tied his career-high with 48 points to give Nebraska Wesleyan a 108-96 victory over Hastings College in an important GPAC men's basketball game at Snyder Arena.
HUSKER MEN'S BASKETBALL: NU Falls Short at Wisconsin
Nebraska ran into a hot-shooting Wisconsin team Wednesday night, as the Badgers hit 11 3-pointers in a 72-61 win over the Huskers. Wisconsin (15-9, 7-4) hit 11-of-18 from 3-point range, including four consecutive 3-pointers after Nebraska pulled within two points in the opening minutes of the second half.
2016/2017 High School Football Schedules Released
The Nebraska School Activities Association has released the football schedules for the 2016 and 2017 seasons. While they are laid out by which week games will played, exact dates and times will have been determined by each individual school.
Tuesday High School Basketball Scores
Here are the high school basketball scores from Tuesday. Click the headline to see the results.
Shrine Bowl Rosters Announced
This year's Nebraska Shrine Bowl football game will be Saturday, June 4th at Foster Field at the University of Nebraska-Kearney. Among the Lincoln area players on the South team include Jack Cobb of East, Alex Bruner of Southeast and Louis Gray of Norris.
Former East High Volleyball Coach Oehlerking Dies
Myron Oehlerking, who built Lincoln East into a volleyball power over a 37-year period, passed away Tuesday morning. After starting the East volleyball program in 1972, Oehlerking accumulated 793 wins, 22 state tournament appearances, six state championships and three runner-up finishes.
HUSKER WOMEN'S BASKETBALL: Shepard Earns 13th Freshman Award
Nebraska's Jessica Shepard captured her conference-record ninth Big Ten Freshman-of-the-Week award on Monday. The 6-4 forward from Fremont, Neb., completed the 13th week of the women's basketball season by becoming Nebraska's single-season freshman scoring leader at 466 points.
Husker Women Struggle In Loss On The Road
The Nebraska Women's basketball team struggled with arguably its worst offensive performance of the season, falling 59-to-47 at Indiana yesterday (Sunday) afternoon. Nebraska slips to 16-and-7 on the season and 7-5 in the Big Ten.
Husker's Strong Performance Not Enough vs Oklahoma
Despite posting the second-best team score in school history, three top-three individual finishes and a number of personal-best scores, the No. 6 Nebraska men's gymnastics team (5-4, 0-1) fell to the top-ranked Oklahoma Sooners (8-0) on Saturday night.
Shields Out Of Hospital, Following Concussion Protocol
Nebraska senior Shavon Shields is out of the hospital following a nasty fall in the game against Rutgers. Shields went up to block a shot by Rutgers' D.J. Foreman. Shields flipped over Foreman's back and landed on his head and shoulder.
Broncos Win Super Bowl; Will Manning Retire?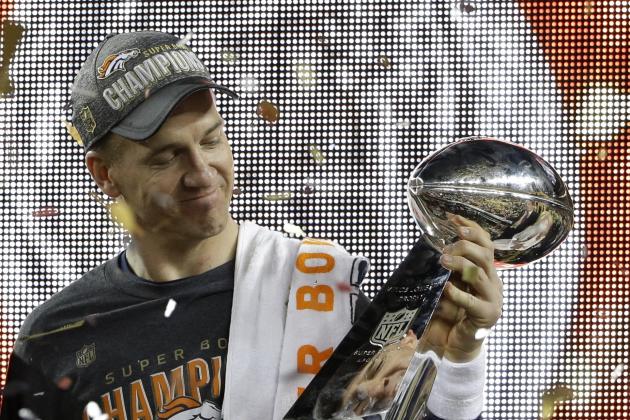 If this was Peyton Manning's final game, he's going out on top. The 39-year-old Broncos quarterback said immediately after winning Super Bowl 50 that he was taking some advice from Tony Dungy....
MEN'S BASKETBALL: Huff Scores 28 To Help Creighton Past DePaul
Cole Huff scored a season-high 28 points on 9-for-11 shooting as Creighton dominated DePaul 88-66 on Saturday. Geoffrey Grosselle added 15 points and 11 rebounds for Creighton (15-9, 6-5 Big East).
MEN'S BASKETBALL: UNO Falls Short To Denver
Christian Mackey scored 14 points and Denver outlasted Omaha 75-72 on Saturday. Denver (13-11, 5-6 Summit) led by six on Nate Engesser's layup with 3:48 to go, but Omaha tied it at 68 on Devin Patterson's jumper with 1:45 left.
Husker DL Coach Hughes Will Not Return for 2016
University of Nebraska head football coach Mike Riley announced Friday that assistant coach Hank Hughes will not return to the staff in 2016.
Lincoln Area Athlete Sign Letters Of Intent
Several Lincoln area boys and girls high school athletes signed letters of intent to compete at the college level during the winter signing period on Wednesday. Schools range from the Division I, II and III levels to NAIA.
HUSKER FOOTBALL: Hovey, Keels Leaving Nebraska
Nebraska wide receiver Lane Hovey is transferring to Montana for his final season of football, and reserve defensive lineman Joe Keels is transferring to Eastern Michigan. Head Coach Mike Riley announced the departures on Wednesday.
HUSKER MEN'S BASKETBALL: No. 4 Maryland Holds On To Beat Huskers
Freshman Diamond Stone had 16 points, 10 rebounds and a season-high eight blocks, and No. 4 Maryland held off Nebraska 70-65 on Wednesday night. Melo Trimble had 14 of his 20 points in the second half as the Terrapins overcame a slew of turnovers to remain a half-game behind conference co-leaders Indiana and Iowa.
NWU MEN'S BASKETBALL: Bardsley's 29 Helps Wolves Defeat Concordia
Nebraska Wesleyan exploded for 61 points in the 2nd half as the Prairie Wolves picked up an important 96-83 victory over Concordia University on Wednesday night (Feb. 3) in GPAC men's basketball action at Snyder Arena.
MEN'S BASKETBALL: Mavericks Suffer Road Loss At Western Illinois
Garret Covington scored 23 points, and Jabari Sandifer added 17 points and six assists to lead Western Illinois to an 83-76 victory over Nebraska-Omaha on Wednesday night to snap an 11-game skid.
MEN'S BASKETBALL: Creighton Falls At No. 3 Villanova
Kris Jenkins scored 22 points, Jalen Brunson had 16 and No. 3 Villanova rolled past Creighton 83-58 on Wednesday night. Josh Hart added 13 points and nine rebounds for the Wildcats (19-3, 9-1 Big East), who have won 11 of 12.
Husker Football 2016 Recruiting Class Announced
Head Coach Mike Riley announced the 2016 recruiting class today which is being rated as a Top 30 class in the nation by various recruiting sites. Among the players singing with Nebraska, two are from the Cornhusker state.
Snow Forces High School Athletic Events to Postpone
With all of the schools closed Tuesday, that's also forced postponements of high school sporting events.
SALTDOGS BASEBALL: Pitchers Spink and McGovern Traded
The Lincoln Saltdogs have made some off-season trades. All-Star catcher Luis Alen from Winnipeg and outfielder Logan Vick from Amarillo will becoming to Lincoln, in exchange for left-handed pitchers Conor Spink and Kevin McGovern.
BOYS BASKETBALL: Morris' 24 Leads Southeast To Win
It took one exciting play late in the first quarter from Lincoln Southeast senior Sam Morris to break out for a 24-point scoring performance. The 6-5 swingman had a steal and dunk for an early 17-5 lead, as the Knights later held on for a 68-64 win over the Thunderbirds Thursday night in boys basketball at the Prasch Center.
GIRLS BASKETBALL: Taubenheim's 13 Points Help Pius X In Win Over Northeast
Regan Taubenheim scored 13 points, including six during a pivotal fourth quarter, to help the Lincoln Pius X girls basketball team to a 46-36 upset of Class A No. 10 Lincoln Northeast Thursday night at Bishop Flavin Gym.
MEN'S BASKETBALL: Georgetown Storms Back To Beat Creighton
D'Vauntes Smith-Rivera scored 19 points, including two key free throws with 6.2 seconds left, to help Georgetown rally past Creighton 74-73 on Tuesday night. Creighton went on a 10-2 run for a 64-53 lead with five minutes left.
SALTDOGS BASEBALL: Brown Named New Manager, Haller Returns As Pitching Coach
There will be a new skipper in the dugout at Haymarket Park this summer. The Lincoln Saltdogs have hired Bobby Brown as the team's new manager, taking over for Ken Oberkfell, who stepped down for family reasons.
BOYS BASKETBALL: Pius X Holds Off Crete
Lincoln Pius X used two scoring runs to hold off Crete in a 61-43 boys basketball victory Thursday night at Bishop Flavin Gym. The Thunderbolts (9-2) got out to an 11-2 second quarter run, sparked by Jerome Schmidt's offensive rebound and putback off a missed three-pointer from Joe Burt.
High School Basketball Scores From Thursday 1-21-16
Click headline to see the latest scores.
HUSKER MEN'S BASKETBALL: Nebraska Upsets No. 11 Michigan State
Shavon Shields matched his season high with 28 points, including 19 in the second half, as Nebraska picked up its fourth straight win, a 72-71 win over No. 11 Michigan State at the Breslin Center Wednesday evening.
HUSKER WOMEN'S BASKETBALL: Nebraska Wins At Purdue 62-61
Nebraska made a huge defensive stand in the final 13 seconds, holding Purdue without a clean shot attempt to escape from Mackey Arena with a 62-61 women's basketball win on Wednesday night.
BOYS AND GIRLS BASKETBALL: Waverly Sweeps Lincoln Lutheran
Austin Wubbels struggled offensively for much of the game, but he came through late for his Waverly teammates. The 6-7 senior forward scored six of his 10 points in the final minute, including a pivotal basket to help the Vikings to a 46-42 win over Class C1 tenth-ranked Lincoln Lutheran Tuesday night at Lutheran.
Former Husker, Lincoln Native Ruud Joins UCF Coaching Staff
UCF head coach Scott Frost announced Tuesday the addition of former Nebraska star and NFL veteran Barrett Ruud to the Knights' staff. Ruud will serve as a quality control administrator for the Black and Gold.
HUSKER MEN'S BASKETBALL: Shields Leads NU over Gophers In 100th Start
Shavon Shields scored 19 of his 24 points in the first half and Nebraska rolled to an 84-59 win over Minnesota on Tuesday night. The Cornhuskers' 25-point margin of victory is their largest against Minnesota in a 64-game series that dates back to 1902.
MEN'S BASKETBALL: Dunn Beats Buzzer, Gives No. 12 Friars 50-48 Win Over Jays
Kris Dunn hit a fadeaway jumper at the buzzer and scored 16 of his 20 points in the second half as No. 12 Providence overcame its worst shooting of the season to defeat Creighton 50-48 on Tuesday night.
NWU MEN'S BASKETBALL: Bardsley Named Player Of The Week
Nebraska Wesleyan senior guard Trey Bardsley has been named the GPAC/Hauff Mid-America Sports men's basketball player-of-the-week and the Association of Division III Independents (AD3I) player-of-the-week.
Royals Sign OF Alex Gordon To $72 Million, 4-year Contract
All-Star outfielder Alex Gordon has signed a $72 million, four-year deal to remain with the World Series champion Kansas City Royals, the team that drafted him more than a decade ago.
Volleyball Title Nets Nebraska's John Cook An Extra $114,000
Nebraska volleyball coach John Cook stands to receive a six-figure bonus for the Cornhuskers' national championship. The athletic department's postseason bonus policy calls for Cook to be paid an extra $114,000.
HUSKER MEN'S BASKETBALL: No. 19 Iowa Holds Off Nebraska 77-66
Jarrod Uthoff had 25 points, eight rebounds and four blocks as No. 19 Iowa held off Nebraska 77-66 on Tuesday night for its fifth straight win. Mike Gesell had 22 points and 10 assists for his first career double-double with the surging Hawkeyes (12-3, 3-0 Big Ten).
MEN'S BASKETBALL: Creighton Tops Georgetown Behind Watson's 27 Points
Maurice Watson Jr. scored a career-high 27 points and Creighton dropped Georgetown 79-66 on Tuesday night. Watson was 9 of 13 from the floor and grabbed a team-high seven rebounds for Creighton (11-5, 2-1 Big East).
HUSKER MEN'S BASKETBALL: 2nd Half Spurt Helps Big Red In Win
Shavon Shields and Andrew White III each had 19 points and five rebounds on Tuesday night and Nebraska blew past Prairie View A&M in the second half for an 81-50 win. Nebraska (8-5) led by as many as 16 in the first half, but fell behind Prairie View 32-31 on Zachary Hamilton's basket with 18:40 remaining.
HUSKER WOMEN'S BASKETBALL: Shepard Gains Big Ten Player and Freshmen Of The Week
Nebraska Women's basketball player Jessica Shepard for the fifth time this season has been named Big Ten Freshman of The Week, while being named Big Ten Player of The Week for the second time this season.
HUSKER MEN'S BASKETBALL: Samford Upends Nebraska
Wyatt Walker scored 10 of his 14 points in the second half, leading an 18-4 run to open the second half, and Samford beat Nebraska 69-58 on Sunday night.
HUSKER FOOTBALL: Rose Off The Team, Stoltenberg Injured
Nebraska coach Mike Riley has dismissed senior cornerback Jonathan Rose from the team for violating team rules again. Riley announced Rose's departure on Tuesday after the Cornhuskers' fourth practice leading to the Foster Farms Bowl against UCLA Dec. 26.
BOYS BASKETBALL: Defense Helps In First Win For North Star
It came down to defense for the Lincoln North Star boys basketball team to keep Lincoln Southeast at bay, as the Navigators won 50-40 last night at the Prasch Activities Center. As North Star's defense stopped Southeast from gaining traction, th
Tuesday High School Basketball Scores
Here's a roundup of all the games from Tuesday night action across Nebraska. Click the headline.
HUSKER MEN'S BASKETBALL: Watson Leads Nebraska's Comeback Over Rhode Island
Glynn Watson Jr. scored 13 of his career-high 17 points in the second half, including a floater with 22 seconds left, to lead Nebraska to a 70-67 come-from-behind win over Rhode Island on Sunday.
HUSKER MEN'S BASKETBALL: Creighton Wins Fifth-Straight Over Nebraska
Isaiah Zierden scored 17 points, Geoffrey Groselle added 15 and Creighton defeated Nebraska 83-67 on Wednesday night, the Bluejays' fifth win in a row over their in-state rival.
FOOTBALL: NSAA Releases District Assignments For 2016 and 2017
District High School Football Assignments for the 2016-2017 seasons have been released. In Class A, district 1 Lincoln North Star will face Bellevue West, Norfolk, Omaha Burke, Omaha Northwest, Omaha South and Omaha Westside.
HUSKER FOOTBALL: Nebraska Has 22 Academic All-Big Ten Selections
There are 22 Nebraska football student-athletes that were named to the Academic All-Big Ten team include four-time academic all-conference selection Ryne Reeves and five players who earned the honor for the third time in their Nebraska careers, including wide receiver Lane Hovey, who was one of five football student-athletes and 21 overall Big Ten student-athletes recognized for maintaining a perfect 4.0 grade-point average.